The magic of the CIAA tournament: Raleigh, N.C., basketball tournament attracts a record number of spectators, including some top celebrities - Central Intercollegiate Athletic Association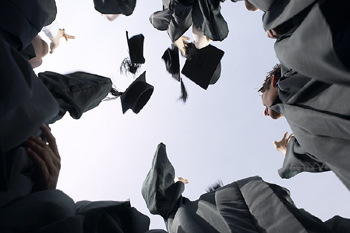 THE second most-attended college basketball conference final last year wasn't the Pac-10 or the Big East--it was the Central Intercollegiate Athletic Association, which attracted more than 20,000 fans, including national celebrities, educational greats and business leaders.
This year's CIAA basketball tournament, which will be held at the RBC Center in Raleigh, N.C., from February 24 through March 1, will probably attract an even larger crowd and will demonstrate once again why the 91-year-old conference, the country's oldest Black collegiate conference, ranks just behind the Atlantic Coast Conference, Big East and Big Ten tournaments in overall attendance.
That's a monumental feat when you consider that the CIAA is comprised of 12 Division II men's and women's athletic programs, including Livingstone, Saint Augustine's and Saint Paul's colleges, and Bowie State, Elizabeth City State, Fayetteville State, Johnson C. Smith, North Carolina Central, Shaw, Virginia State, Virginia Union and Winston-Salem State universities. Shaw, Saint Augustine's and North Carolina Central are this year's host schools.
More than 80,000 screaming CIAA fans converged on Raleigh over six days in 2002 (an increase over the 74,000 in 2001) for the tournament, generating an estimated $8.8 million for the city, according to the Greater Raleigh Convention & Visitors Bureau. Local Raleigh eateries like the 42nd Street Oyster Bar & Seafood Grill were so packed with hungry patrons they had managers waiting on tables.
It's a far cry from a decade ago when the conference final drew only about 10,000 spectators. Now high-profile celebrities from across the country are joining in on the celebration, including hip-hop and fashion mogul Scan (P. Diddy) Combs, boxing great Evander Holyfield, high-powered attorney Willie Gary and syndicated radio host Tom Joyner.
"Last year's tournament was the best one in CIAA history," says Leon Kerry, a former banker who is now in his 13th year as CIAA commissioner. "We sold out. We beat the Big East, Pac-10, Big Ten, all of them as far as the championship game [attendance] was concerned. And this year, we're going to keep it exciting and give people a lot of things to do."
The CIAA basketball tournament is so much to so many that it cannot be described as just a sporting event. For some, it's an established tradition that started in a musty boxing gym in Washington, D.C., in 1912. For students, it's a job fair with inroads into corporate America. For other attendees, it's a fashion show, step-show, concerts and happy hour. For the conference, it's a recruitment and scholarship drive that brings money and additional students to historically Black colleges and universities. For the rest, it's a weeklong chance for family and friends, old classmates and buddies to get together and wax poetic about times past.
This year's tournament is no exception, in addition to some great basketball, fans and alumni attending the 58th annual tournament can expect a revised fashion show and after-party events featuring acts like Harold Melvin's Blue Notes. New this year is the inaugural CIAA Charity Golf Classic, a golf tournament designed to generate scholarship funds for selected CIAA golf programs. The teams will be comprised of alumni, and the winning team will be able to donate the prize money to the CIAA school's golf team of its choice.
While the tournament gives alumni a chance to let their hair down and party, it also recruits students into the HBCU system and nurtures them through their tenure. The CIAA hosts three events during the tournament: 1) "High School Day," which gives recruitment officers a chance to meet with local high school seniors about attending a Black college after graduation; 2) a job fair that gives current college juniors and seniors a chance to apply for internships and jobs; and 3) corporate sponsored programs, such as the management program created by Food Lion LLC, one of the largest supermarket chains in the country and a huge sponsor of the tournament. Bank of America also has held a leadership seminar for students during the tournament.
The conference tournament brings two much-needed resources into the HBCU system-money and students. The money raised for the CIAA through corporate sponsorships, vending and an endowment from the city of Raleigh funds scholarships for students. In the last three years, CIAA tournaments have raised more than $500,000 in revenue, giving students the necessary resources to enter college and excel in the job market, which is the central mission of the CIAA. Despite the extra, sustained competition from White schools to recruit the best Black students and athletes, enrollment has continued to increase, and CIAA schools graduate more than 70 percent of its students.
"If [historically Black colleges and universities] did not exist, there would be nowhere for some of these kids to go to school," Kerry says. "The dream is that they become productive citizens, that they believe in the dream and [continue to send their] children to HBCUs."
CIAA SCHEDULE 0F EVENTS
SUNDAY, FEB. 23
* WOMEN'S TIP-OFF BANQUET: This starts the tournament week by recognizing all of the teams, coaches and their accomplishments.
MONDAY, FEB. 24
* WOMEN'S TOURNAMENT BEGINS
TUESDAY, FEB. 25
* MEN'S TIP-0FF BANQUET: All of the teams, coaches and their accomplishments are recognized.
WEDNESDAY, FEB. 26
* MEN'S TOURNAMENT BEGINS
* CIAA CAREER EXPOSITION: This is a job fair where companies come in and recruit and evaluate potential employees. This is open to all college students, not just ClAA students.
THURSDAY, FEB. 27
* CIAA CHARITY GOLF CLASSIC: The first annual golf classic is designed to create scholarship dollars for selected ClAA golf programs. There will be teams of alumni, and the winning team will be able to donate the prize money to the CIAA school's golf team of its choice. The presentation will be made at halftime of a game that night.
* HIGH SCHOOL DAY: A chance for all ClAA schools to come in and tell area high school students about their respective institutions and the HBCU experience.
* ClAA OFFICIALS' HALL OF FAME BREAKFAST: Breakfast/awards banquet
* Men's Tournament games
FRIDAY, FEB 28
* TOM JOYNER MORNING SHOW: Live radio broadcast from Raleigh's Memorial Auditorium
* ClAA HALL OF FAME BREAKFAST: Selected persons will be inducted into the ClAA Hall of Fame.
* WOMEN'S SEMIFINAL
* MEN'S SEMIFINAL (TV)
* ClAA STEP SHOW (Greeks from various ClAA schools participate)
* ClAA COACHES SOCIAL: Gathering after games that night for coaches, spouses and special guests.
CIAA SUPER SATURDAY, MARCH 1
* 3-P01NT SHOOT-OUT: Winners (students) from games throughout the year compete for the title of CIAA champion.
* CHEERLEADING EXHIBITION: Competition includes all of the squads.
* WOMEN'S LEGENDS GAME: Women legends from over the years return to compete in a game for fun.
* CIAA FASHION SHOW: A high-end exhibit of fashion, and it includes a luncheon hosted by the wives of presidents and chancellors.
* 3-0N-3 CONTEST: Winners from each campus come and compete for the team title.
* CIAA Leadership Forum: An invited guest comes and speaks to CIAA fans, students and alums about what it takes to be a leader.
* MEN'S LEGENDS GAME
* WOMEN'S FINAL (TV)
* MEN'S FINAL (TV)
* POST-TOURNAMENT CONCERT
* POST-TOURNAMENT PARTY