Career college librarians introduce themselves: fringe librarianship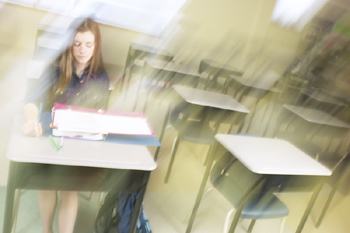 Career colleges have gone by many names: for-profit schools, nonpublic trade schools, proprietary schools, "those schools with the late-night TV ads." In turn, librarians at some of these schools don't know quite how to categorize themselves. Academic? Corporate? Special? Peerless? It's understandable that this sector of the library world is virtually invisible in professional groups and academic literature. Maybe the career-college librarian is fated to eternally forge her own path, justifying her worth at every turn, sneered at by corporate administration, faculty members, and even her fellow "legitimate" librarians.
We hope not. As three of the founding members of the Minnesota Career College Association Libraries (MCCAL), we see great promise in our peers and our ability to collaborate and influence this growing area of American higher education. We are the front-row witnesses to the corporate transformation of our nation's colleges and serve on the front lines of the effort for information literacy. Compared with the rest of the library world, career-college librarians face a unique set of challenges. Pleased to meet you, library world. This is our story.
What Is a Career College?
The continuing increase in the number of for-profit schools will mean more opportunities in the coming years for librarians who want to work in this expanding and challenging area of the library profession. Currently, the four largest campuses in the United States are for-profit schools (www.career.org).
A career college is a for-profit postsecondary institution that provides professional, career-specific educational programs leading to diplomas, certificates, associate degrees, bachelor's degrees, master's degrees, and doctorates. There are 4,536 career colleges; they make up approximately 46 percent of all postsecondary institutions in the United States, according to Nicholas Glakas, president of the Career College Association.
[ILLUSTRATION OMITTED]
Career colleges offer a wide variety of environments. They can be large multi-state, multi-program schools or quite small, with only one campus that specializes in a particular area. They can be online, residential, or both. Most schools are accredited by one or more state or national bodies, including the Accrediting Council for Independent Colleges and Schools (ACICS) or the Higher Learning Commission for the North Central Association of Colleges and Schools (NCA).
The life cycles of the schools also vary. Some career colleges have been around since the 19th century and have changed owners many times. For example, the Minnesota School of Business was established in 1877 and has gone through numerous owners. It offers many different programs and degrees ranging from a diploma to an MBA; it has six campuses and online classes. On the other hand, the Institute of Production and Recording, the new Minneapolis career school on the block, was established in 2002 to provide an education in the music industry.
A unique characteristic of a career college is that the curriculum usually hinges on current market trends for employment. Current hot areas include massage therapy, nursing, veterinary technology, paralegal studies, and business. When the market turns, programs are usually discontinued as quickly as they were created.
What Is a Career College Librarian?
Career-college librarians come from all over the library world. Some are right out of library and information science graduate schools. Others have worked in public libraries, corporate libraries, and academic libraries before landing in the career-college environment. Most have an MLIS or MLS, and many have other degrees as well. Many accrediting bodies, such as the ACICS, require that career-college librarians have an MLS from an institution accredited by the American Library Association (ALA).
The library is a highly visible center of the school, and librarians can be a voice for students. The students are our number one priority, and in an open environment, we can funnel student feedback--concerns and problems--directly to the administration. In some schools, the librarian reports directly to the campus director or the dean of faculty. Answers can come fast and changes can happen quickly in a career college--the library and the librarian must be equally quick and adaptable.
Career-college librarians are working in a nonresearch academic environment. We do not have tenure and, therefore, do not feel pressure to publish or serve on various committees; however, we also have less job security. The career-college librarian's job depends not only on how well he or she performs as an individual and team member in the organization (with annual and quarterly reviews by students) but also on how the organization as a whole does in the market.
Role, Identity, Services, Respect
Career-college librarians are the multi-taskers of the library world: We do it all. We are catalogers, directors, instructors, referrers, managers, collection stewards, and IT troubleshooters--and that's just in one day! The for-profit librarian often must make do with a limited staff; sometimes, with no staff.
Another characteristic that sets career colleges apart from more traditional schools is the diverse population. Students range from recent high school grads to adult learners looking for a career change, and include ethnically diverse students, immigrants and refugees, and students from lower income families. Often students have personal challenges to overcome in education and in the library, such as language barriers, special needs, and economic hurdles.
Finally, for the librarians, there is the challenge of esteem. Like the late Rodney Dangerfield, it seems we "don't get no respect." Because career college librarians do not fall into any of the traditional library niches (i.e., college/university, community college, or corporate), we are often disregarded by our fellow librarians. Some career college librarians have reported disdainful attitudes from "real" academic librarians, but the designation of "special librarian" carries too many corporate connotations for our mission statements. We often must wrestle with the question of where we fit into the grand scheme of things. We have the goals of postsecondary education with the accountability and variables of a corporation. We are neither traditional academic librarians nor corporate librarians. At times, our work seems to encompass all library fields and none.
Minnesota-MCCAL
In spring 2004, Susan Wakefield decided to create an organization for for-profit librarians. She called together all the career college librarians in Minnesota to organize. There were some complications, both internal and external, but after one year, MCCAL is still going strong. Some people have been surprised that the librarians have found common ground and are able to cooperate with each other, in spite of their affiliations with competing proprietary schools. But because of the nature of librarianship, the members of MCCAL share a desire to cooperate with one another to serve their patrons.
Why Work for a Career College?
Career colleges often are small enough that we get to know the individual students, and we enjoy the personal contact every day. It is rewarding to watch students become self-sufficient in research after we have assisted them in the early stages of their education, and we take great pleasure in seeing them grow and develop into confident individuals.
Want to Know More?
Contact the librarian at a local career college. Unsure of where to start? Let us help you.
Proprietary schools are as unique as their owners. If you are interested in making a difference in someone's life, there is a world of opportunity in the career college setting.
Melissa Aho, MLIS, MS, works for the Minnesota School of Business at the Brooklyn Center campus. Erika Bennett works for the Institute of Production and Recording. Susan Wakefield, MLIS, is the former campus librarian for the Minnesota School of Business, Plymouth.