Leon G. Kerry: the man behind the CIAA surge: commissioner charts new course for oldest black conference - Central Intercollegiate Athletic Association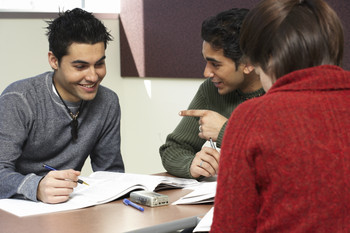 LEON Kerry wanted to be the CEO. He wanted the chair at the head of the table. He wanted to run the show. He just didn't expect it so soon, and not as commissioner of the Central Intercollegiate Athletic Association, the oldest African-American college athletic conference. Now, after 13 years at the helm, Kerry is the longest-tenured commissioner of a historically Black college or university athletic conference. He has become the CIAA's loudest backer, its hardest-working fundraiser and its biggest fan.
A graduate of Norfolk State, the 54-year-old from Chesapeake, Va., says he is "C-I-Double-A-For-Life," a phrase he frequently uses to describe the thousands of devoted alumni that attend the CIAA basketball tournament every year. And he says he will always be a part of the conference in some capacity.
Kerry will be the first to admit that his tenure has been as much about survival as success. He never expected to be in the head position when he started out in 1988 working with the conference part-time, volunteering in the league's business office while working as a vice president at Sovran Bank, now Bank of America. At first, it was just to help the conference office get its finances in order, but it quickly became obvious that the conference needed someone to work on the books, full-time. Within six months, Kerry ran the business office.
When the conference's then-commissioner Bob Moorman left the conference in 1989, the board, impressed with Kerry's job as business manager, offered him the position of interim commissioner in May of that year. "The board made me an offer that I couldn't refuse," he says.
Excited by the opportunity of leading the conference, Kerry agreed. He became full-time commissioner in February 1990.
When Kerry first took over, the tournament had two corporate sponsors and a crowd of about 10,000 attending the festivities. Over the past decade, he has become a one-man CIAA show, traveling throughout the year, either to charter schools or to companies to vie for corporate sponsorship.
Kerry's accomplishments as commissioner include increasing the corporate sponsorship for the basketball tournament, establishing business partnerships with top-notch companies, reinstating a conference football championship tournament and greatly expanding the tournament turnout within the last three years to more than 80,000.
The commissioner has been attending the basketball tournament since 1967, when he was a student at Norfolk State, where he received a degree in business administration. He continued to attend the tournaments while serving in the U.S. Army and Army Reserve as a captain, and afterward, while climbing the corporate ranks as a banker.
Kerry even celebrates his wedding anniversary with his wife of 30 years, Angela, at the tournament with their two daughters, Lisa and LeAnne, both Hampton graduates. Despite the mayhem of tournament week, Angela Kerry says that she and her husband can find some time for a peaceful, intimate anniversary dinner. "It's usually a quiet celebration with me and the kids," she says.
"He's doing an excellent job," says Dr. Dorothy Cowser Yancy, president of the conference's board of directors and president of Johnson C. Smith University. "Under his leadership, the tournament has grown in size, visibility and the number of sponsors. He found a consulting firm that did marketing analysis and [their work] has taken the conference to another level."
When he's not traveling and fund-raising, Kerry is a "homebody," says his wife, who's a kindergarten teacher. He's also a serious movie buff who collects movie memorabilia, and he has a particular interest in classic movies. But most times, Kerry can be found working in his spacious backyard, which resembles a miniature park that includes a bike trail, park benches, various statues, large umbrellas and water fountains.
Kerry says he finds solace in "his girls," meaning his wife and daughters. They were his pillars of support four years ago when he was diagnosed with cancer just months after he turned 50. It took three months after surgery, he says, to return to work and that it has taken the last three years to return to full health. And the staff, he says, did a great job of running the conference while he was recovering.
"I was scared, it was a difficult time of my life," Kerry says. "But the team kept the dream going. I have a pretty good team here. I found out just how good they were when I had major surgery."
In the future, Kerry says he'd like to see a CIAA Hall of Fame constructed and an increase in corporate sponsorship to at least 10 companies, with each donating $1 million, before handing the reins of the conference to someone else. He already has five sponsors and the conference is talking with the Raleigh city officials about a possible Hall of Fame site in the city.
More importantly, Kerry says he'd like to bring more money and students into the CIAA and help keep Black colleges and universities alive in a world that some believe doesn't have a place for Black schools anymore. Then, he can step down as commissioner.
"Maybe I'll be a consultant," Kerry says.